Hello all my readers
Today we are going to discuss the best Skillshare classes to start an online shop or online business. It includes an online shop with Bigcartel, Etsy, WordPress-Woocommerce, Shopify, and more.
So let's get started
Selling on Etsy: How to create a successful online shop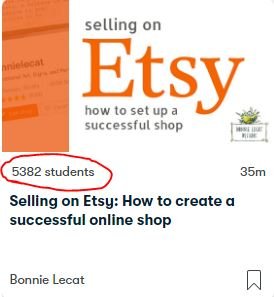 Join artist Bonnie Lecat as she explains 5 important elements of a successful Etsy shop along with advice, links, and resources that helped her make thousands of sales and earn revenue exceeding well over six figures on Etsy.
At the end of this class, students will have the information they need to start setting up their online stores for success!
This class includes a BONUS downloadable guide with over 30 links and resources to help you become a successful Etsy seller!
Start an Online T-Shirt Business at Zero Cost
In this course, you will learn to launch and promote a T-Shirt label online. We will avoid all inventory costs and overhead by using print-on-demand merchants to sell our designs on shirts around the world. In this course, we will use Redbubble, Cafepress, Zazzle, Society6, Spreadshirt, Threadless, Teespring, and Printful to sell designs on Shirts and other products. These companies fulfill the creation and shipping of our products, meaning we don't need to invest in equipment or stock.
Even better, what we design for T-shirts can be made for sale on other products, like stickers coffee mugs, wall clocks, and just about any other product you can imagine.
How to Make a Living as a Surface Pattern Designer
This class is a guide for beginners that are just starting out, or for you who need some direction in your newly started surface design business. By the end of this class, you will have gained more clarity of what it really means to build a creative business, you'll understand the steps that you need to take and how to build up your business in a sustainable way.
You'll learn how you can work towards your goal of making a living as a surface pattern designer and to avoid overwhelm while you do so.
Build an Online Shop: Design and Launch Your Own Big Cartel Store
In this 40-minute class, you'll learn how to set up and customize your own online shop with Kate Miss, an independent jewelry and graphic designer who works with artists all around the world to create successful Big Cartel shops.
Each bite-sized lesson walks you through the basics of adding products, finding the right design, and creating a look that matches your brand. Kate draws from her 6+ years of experience as a successful Big Cartel shop owner to help both designers and non-designers alike build a beautiful and effective store. All you need to get started is something to sell.
Build a Highly Converting Shopify eCommerce Store in 90 Mins!
In this course we will go over the following:
Creating a Shopify account
Properly setting up all of the back-end technical settings (Payment Processing, Checkout Procedures, Shipping Rates, Taxes, Privacy Policy, Refund Policy, Terms of Service, and much more)
Install and source products from Oberlo
Import products directly to your Shopify store
Edit product information, descriptions, and pricing
Building out a high converting front end to your store
Editing store navigation menus
Connecting a domain to your store (LIVE SITE)
Woocommerce Step-by-step Course Create Professional eCommerce Store
Did you know that Woocommerce runs on WordPress platform?
The teacher will explain to you everything about these two platforms. You will learn how WordPress works, what are the most important settings, and how to install all needed plugins.
How to choose the right theme for your website and how to install it.
How to set up payment gateways so your customers could pay by credit card or Paypal.
How to add products to your website.
How to add your website to Google Search Console
How to add a Facebook pixel to your website. Once you have done this, you will be able to run the conversion and retargeting ads.
After finishing this course, you will know how to create a professional looking Woocommerce store not just for yourself but for others as well.
New Way Of Doing Dropshipping / Shopify + Spocket
In this course, we're going to go through finding products to sell without ever worrying about inventory and shipping. You'll learn why dropshipping might be the ideal business model for you, how to validate a product and business idea, how to set up a store, how to find a supplier, and how to get your first sale. Whether you have no idea how to get started or you have no idea how to get your first sale, that's what I'm here for.