Like February 2020, we are continuing free available brandable and "exact match domain" in March 2020
We will update with new domains each day of March. So, keep your eye on it.
March 1, 2020
Abamoda.com
AddSomeCash.com
AquaVinyl .com
AutoAnnounce .com
Barbarro.com
March 2, 2020
BeYouBridal.com
Benvex .com
BillyBud.com
BoobAid.com
BrandMashup.com
March 3, 2020
BroadwayBoogie.com
Burhas.com
CantonEvents.com
CaseyGrant.com
Chemgenic.com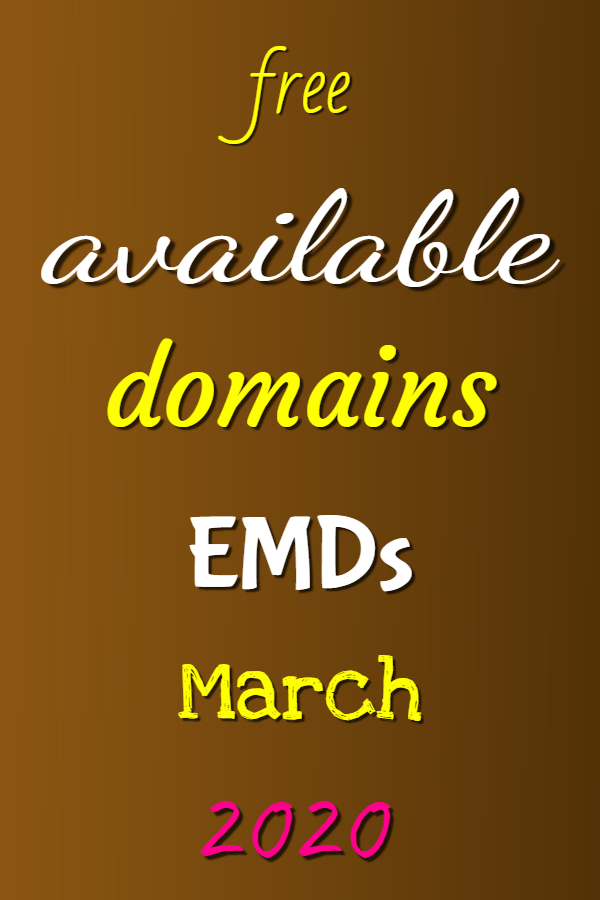 March 4, 2020
CinemaTrail.com
ClodHop.com
CorkJug.com
CreamFill.com
CubanChicken.com
Daily available niche brandable domains EMDs – Ample Online Media
Daily updates on available free to register domains. Brandable, fresh drops, EMDs. Niche related domains for your business.
March 7, 2020
TunaPop.com
AutoTrackSystem.com
SmartestAnimal.com
JoinClap.com
Ballistically.com
nycsecuritysystem.com
March 10, 2020
TicketToSydney.com
SupremeSize.com
FluencyApp.com
GamblerBaba.com
MrsWilliamson.com
LawnmowerStores.com
March 11, 2020
CrossNeo.com
BoosterPlan.com
GeneralAdministrator.com
JoltIt.com
DrewAndCompany.com
DollarsBetterSpent.com